Downloads | Embed ebay auctions in forums
Use my.eListing in your forum!
my.eListing for WoltLab Burning Board® forums replaces ebay links with an article preview.
Also users can display their articles in their profile with the stylish my.eListing sliders: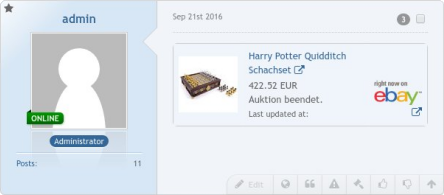 Download the plugin
here
(version 1.0.0) for free!
---
---
Imprint
PCSG - Computer & Internet Service OHG
Pfaffenberger Weg 142
42659 Solingen
Germany
Phone: +49 212 22 63 078
Fax: +49 212 22 63 079
E-Mail: info [at] pcsg [dot] de
AG Wuppertal HRA 22653
Managers: Moritz Scholz, Henning Leutz
Tax-Nr. 128/5871/0810
Tax ID Nr. DE263620766
Responsible for Content according to § 55 paragraph 2 RStV: Moritz Scholz and Henning Leutz (adress same as above)
Disclaimer: Even if we carefully controlled all the content, we are not liable for the content of external links.
Responsible for the content of the external pages is their provider.